There you are stranded overseas and trying to get a new job, better pay, and better working conditions. If you are like me, you have probably already asked yourself, "Where can I get a TEFL certificate?"  Lucky for you, the answer is easy. These days it is easy to study online. Whether you are already teaching or just thinking of teaching, let me suggest these short and comparatively inexpensive methods to get certified in TEFL (Teaching English as a Foreign Language.)
The following TEFL programs are in no particular order. I have been checking them out, and if it seems legit, I'm posting about them here. I would suggest you look at the programs below and decide what is best for you and your budget. They both offer help with job placement and a lot of helpful resources that will prepare you for your future as an English as a Second Language teacher.
---
Let's TEFL
Let's TEFL provides an excellent online TEFL course for people who wish to teach English and travel the world.
A TEFL course is a type of online training that is required for people who want to teach English in exotic destinations such as Thailand, China, Japan, Korea, Vietnam, Argentina, Spain. While a certification is not always required for working, the skills you gain can help make teaching more manageable and can open the doors to new opportunities that you wouldn't have found with just a standard degree.
Their accredited and recognized online TEFL course can give you all the essential training needed to jump into life overseas.
You'll learn useful skills like:
How to teach English

How to manage a classroom

How to navigate the industry
The best part is that they will even help you find a job afterward. Check out the video for more information
---
myTEFL Special!
myTEFL is a popular online TEFL Course provider. They have been around since 2013, and they offer highly rated courses at affordable prices.
Traveling overseas and teaching English has been around since the 80s. However, the amount of people seeking work abroad is growing at an exponential rate. In the 20 plus years I spent overseas, I saw that the standards for schools and universities started to get higher and higher as more qualified teachers presented themselves.
myTEFL also provides you with job placement and the chance to access teaching materials and resources they have available after you have graduated.
Check them out!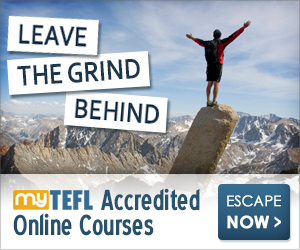 ---
Final Word
Gaining a certificate from an accredited and recognized school is essential. These are two that I checked out, and they both offer many benefits. If you already have your bachelor's degree, then a certificate in TEFL might be the one thing that makes a school pick you over the other people vying for the same job. Check out the above courses and decide what's best for you. If you have another course, you would like to recommend, leave a message in the comments below or email me directly at Jim@TeachingEnglishisFun.com
Jim