We've all been there; you write an exciting, informative ESL lesson complete with a handout with lots of great pictures or illustrations. You check it over once, twice, three times as the consummate professional you are. Then after using the same lesson for three or four classes, you see something that makes your blood run cold.
There it is in the second paragraph, a simple grammar mistake or worse spelling mistake! How could this happen? You checked your paper three times. If you had this first tool, that wouldn't have happened. Grammarly is a free online writing assistant that no one should be without.
Grammarly
Grammarly is an excellent free tool that checks your grammar, punctuation, spelling, and even word use. I wish I had this great tool when I was teaching class full time. Grammarly corrects all sorts of errors from simple grammar to vocabulary use. Better yet, it highlights mistakes as you go so you can edit on the fly, or you can run a check after. If you have to communicate by email frequently, then Grammarly has an add-on that will edit your letters as well.
The best part is Grammarly is free to use. There is a premium version that catches more mistakes, but the free version will point out your glaring, OMG, "my students must think I am an idiot" errors. I leveled up to the advanced version because I needed it to catch mistakes on sites I was writing. It also gives suggestions for phrases and words Grammarly thought were too frequent or overused.

I had my account for several months. After I started using it, I found that it not only improved my work, but it slowed me down so that I noticed other errors besides the kind caught by Grammarly. My boss liked it so much that he purchased a business account for the whole team. Grammarly is The World's Best Automated Proofreader. Check out the video below for more information.
Hemingway
Hemingway and Grammarly are the two primary tools I use. I usually have to make sure that I write at a specific grade level for my work. Hemingway does a great job of letting you know if your writing is at too high a reading level. While it is good at pointing out when you use too many adverbs or if you have a sentence that is hard to read, it doesn't check spelling mistakes.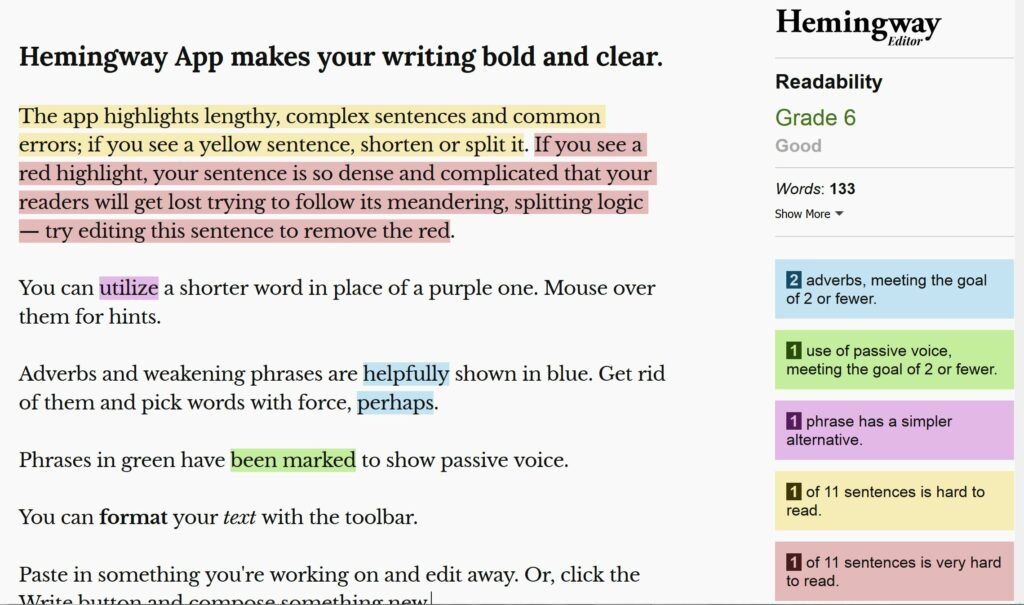 It does, however, offer alternative choices for difficult words. The whole point of Hemingway, like any good editor, is to simplify your prose and make it easier for the reader to understand. As an ESL teacher, this will come in handy, and if you are writing anything for consumption online, it will definitely be useful.
How I Use Them
I use Grammarly daily. In fact, I will probably use it as a final check of what I am writing here. I use it in emails, Word Press, Word, they even have an app for your phone! My biggest problem? See the ad below. (I do indeed, have comma problems.)

I use Hemingway less and usually only when I have an extensive paper that I have written, and I want to ensure it is not too verbose that it is incomprehensible. When you have a large vocabulary, it sometimes is hard to restrain yourself.
Whether you are showing off or it is just the way you speak and write, Hemingway does an outstanding job simplifying your work. When I need to post something to the Web, or I'm stuck for how to tweak it, Hemingway is a good choice.
My Final Recommendation
Why are you still here? You should be downloading Grammarly as we speak. It's free! (But the paid version is so worth it) I can honestly say it has made my life and my boss's life much simpler.
As for Hemingway, there is a paid version that I haven't yet had the opportunity to download or try out. I have read over the enhancements, and it seems like they make it much easier to move the project you are working on to Word Press, Word, and other programs with it being integrated. The free version is right on the Web and easily accessible if you have a computer.
Try them both out, and you can thank me later. I'm always looking for more tools, games, and ideas that can make a teacher's and writer's life easier. If you have any tools you use, please share them in the comments section.
I look forward to hearing from you. Now go out there, write grammatically correct handouts for class, and have fun because Teaching English is Fun!
~ Jim
This post was proofread by Grammarly