This is an ESL activity I like to begin early in a class to go over appropriate and inappropriate conversations. The idea of small talk. I'll put the sheet that I use for my class down below and add to this page later as I come up with more small talk ideas.
---
Appropriate Subjects for Small Talk
Here is a list of common small talk subjects. If you have difficulties speaking about any of these topics, try to improve your vocabulary by using the resources available to you (Internet, magazines, teachers at school, etc.)
Sports – current matches or games, favorite teams, etc.
Hobbies
Weather – boring, but can get the ball rolling!
Family – general questions, not questions about private matters
Media – films, books, magazines, etc.
Holidays – where, when, etc. but NOT how much!
Home town – where do you come from, how is it different/similar to this town
Job – once again, general questions not too specific
Latest fashion and trends
Celebrities – any gossip you may have!
Here is a list of topics that probably aren't very good for small talk.
Of course, if you are meeting a close friend these topics may be excellent. Just remember that 'small talk' is generally discussion with people you don't know very well.
Salary – how much do you make? – That's none of your business!
Politics – wait to you get to know the person better
Intimate relationships – only for you and your partner – or maybe your best friend
Religion – tolerance is the key!
Death – we need to face it, but not the first time we meet someone new
Financial – related to salary above, most people prefer to keep financial information to themselves
Sales – Don't try to sell something to someone you have just met.
---
And That's the Class
Just a quick addition to this page, in addition to what I have following this paragraph, you can precede this class with the Follow-ups in Conversation class that will beef up their small talk skills.
After you have had them go over the content in small groups, you can pair them off and have them try their own small talk practice. I usually let them practice with just each other for a short time, and depending on the size of the class, I might have them do an impromptu small talk in front of the class with another part I have chosen by random.
Another way to twist this lesson is to have them all pretend that they are at a party with a bunch of people that they have never met before. I time them, and after a few minutes, I ring a bell and say mingle. They then have to find another partner or group to small talk with. I find getting them out of their seats and moving adds to the ambiance, so no sitting down during the party! Click below for the video.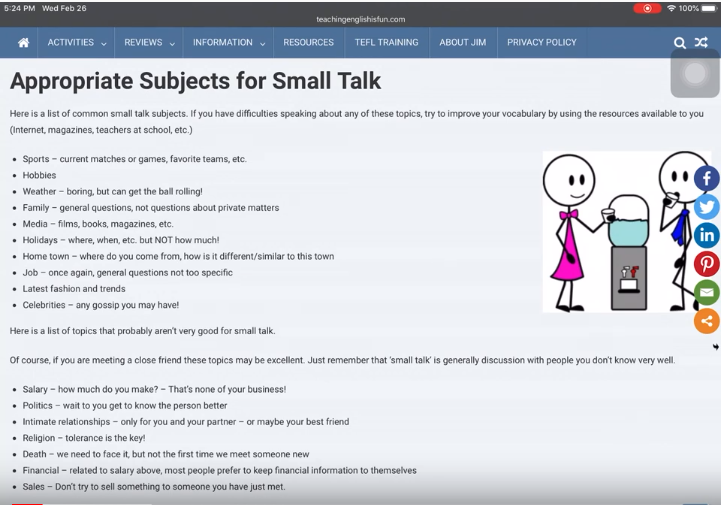 Any Questions?
If you have any questions, comments, or ideas of your own, leave me a message in the comment section below, and I'll be sure to get back to you.
Until next time, get out there and have a blast, because Teaching English is Fun!
Jim